Global Virtual Classroom
WebsiteContest Judge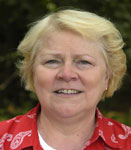 Carol Knauff - Carol C. Knauff is a retired Vice President from AT&T where she spent 29 years leading organizations to market place and financial success. She represented AT&T in a number of national organizations. These were: U.S.O., Council for Better Business Bureaus, and National Council of LaRaza. She is an elected member of The Pennsylvania State University Alumni Council, and was named Outstanding Engineering Alumni in 1995 and Alumni Fellow in 1998 by Penn State. She also received the Pinnacle Award in 2002 from Fairleigh Dickinson University. Carol received a B.S. in Electrical Engineering from Penn State in 1969, a Masters in Engineering Management from the University of Missouri-Rolla and an MBA from Fairleigh Dickinson. She currently resides in Mendham, NJ with her husband Jeff and their two daughters, Kathleen and Christine. Carol is active in her community and volunteers many hours to the high school.